Several U.S. states—Vermont, Washington, Maryland, and New York—have banned the use of hydraulic fracturing technology to obtain oil and natural gas from shale basins, but among them, New York is the only state with enormous energy potential. Hydraulic fracturing technology spurred the energy renaissance in the United States and made the nation effectively energy independent in 2019 for the first time since the early 1950s. States such as Pennsylvania, West Virginia, and Ohio have benefited from the natural gas produced in the Marcellus basin, bolstering their economies and creating thousands of jobs. Despite having a section of the Marcellus shale basin in the state, New York produces less than 1 percent of the natural gas it consumes and imports the rest from outside its borders. Natural gas consumption in New York is large, being used for heating, electricity generation, and many industrial uses. Natural gas produced 40 percent of the state's electricity last year and is expected to produce 50 percent of its electricity next year as a result of New York's shuttering of the Indian Point nuclear power plant.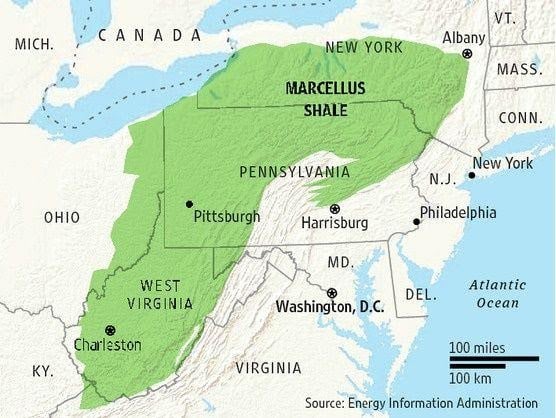 New York
New York's ban on hydraulic fracturing cuts off about 12 million acres of the Marcellus Shale—an underground rock formation with natural-gas reserves that have helped fuel an energy-production boom in Pennsylvania, West Virginia, and Ohio. Local communities in New York were hoping to revive stagnating economies through the production of natural gas from the Marcellus. A dairy farmer in New York's Southern Tier region, for example, had hoped that leasing land to energy companies would help pay property taxes on his 700 acres of farmland. But, because the state controls the most valuable part of his farm—the shale gas found beneath the surface, he is unable to capitalize on a lease sale.
Without hydraulic fracturing, New York produces less than one percent of the natural gas that it consumes. In 2018, New York produced 11,798 million cubic feet of natural gas (most recent production data available), while the state's natural gas consumption that year was over 100 times as much, 1,323,836 million cubic feet, which means that New York needed to import 1.3 trillion cubic feet of natural gas from other states, most likely Pennsylvania.  Using the natural gas prices from the Energy Information Administration for New York, the value of the natural gas consumed in 2018 was $10.77 billion, of which the majority, $10.67 billion, was imported from outside of New York at a value of $6.39 billion that was paid to the natural gas producers of another state. That means that New Yorkers were forced to send over $6 billion out of their state to buy a widely-used product that has been banned from being produced at home. It also means fewer jobs, both directly and indirectly, and less tax revenue for the state and local governments.
Pennsylvania
Due to the development of the Marcellus Shale, the largest U.S. natural gas field, Pennsylvania's natural gas production totaled 6.2 trillion cubic feet in 2018, almost double its 2013 production. Pennsylvania produces about one-fifth of the nation's national gas, making it the second-largest natural gas producer after Texas. Natural gas production has revitalized communities in the state, not only in production areas where new housing, hotels, restaurants, and other businesses have been established, but across the state due to a per-well impact fee that raised $1.7 billion for community projects, environmental programs and public safety initiatives.
The U.S. Chamber of Commerce evaluated what the impact would be of putting a ban on hydraulic fracturing in Pennsylvania. It found that Pennsylvania would lose $19 billion in state GDP in the first year of the ban and $261 billion in state GDP by 2025 if the ban was enacted out of an economy of $788.5 billion in 2018. Without hydraulic fracturing, there would be $23.4 billion less in state and local revenues by 2025, 125,000 jobs lost almost immediately, and 609,000 jobs lost by 2025. These are staggering losses of jobs and income
In contrast to New York, Pennsylvania consumed 1.2 trillion cubic feet of the 6.2 trillion cubic feet of natural gas it produced in 2018, leaving 5 trillion cubic feet of natural gas available for export to other states. With 105 trillion cubic feet of known natural gas reserves, the state can enjoy economic prosperity for a long while, particularly since as resources are developed, more reserves are found. Pennsylvania's natural gas reserves at the end of 2018 were more than double the reserves it had at the end of 2013, despite having produced about 26 trillion cubic feet during that period.
Conclusion
Judging by the success of neighboring Pennsylvania, New York is hurting its economy and whole parts of the state by banning hydraulic fracturing, which would allow it to produce the natural gas that the state consumes for heating, electricity generation, and industrial uses. Further, it is likely that it would have excess natural gas that it could sell to other states, such as those in New England, which would further bolster its economy just as it did to Pennsylvania's economy. With the Indian Point nuclear plants being shuttered, New York needs the natural gas now more than ever, and keeping it in the ground while denying its residents its benefits smacks of callousness.