In 2019, China, the world largest emitter of carbon dioxide, and India, the world's third largest emitter of carbon dioxide, together were responsible for 36 percent of the world's carbon dioxide emissions. The United States emitted 14.5 percent and the European Union emitted 9.7 percent. But while the United States and the European Union are shuttering their coal generating plants and setting strict goals for emissions reductions, China and India are building coal plants and refineries that easily last 40 to 60 years. With hundreds of millions still in abject poverty, both China and India require cheap and reliable power for industrialization and economic progress.
The cheapest power for most countries is coal. China is becoming more and more affluent as a result of its uses of coal. It is the world's biggest user of coal-fired power—bigger, in fact, than the rest of the world combined. Coal-fired power accounts for over 65 percent of India's electricity generation. Power consumption in the country grew nearly 45 percent in the first half of April over the corresponding period a year ago, showing robust recovery in industrial and commercial demand of electricity, according to power ministry data. India expects to expand coal generation by putting its coal mines in the hands of private entrepreneurs to improve productivity and output.
India's Generating Mix is dominated by Coal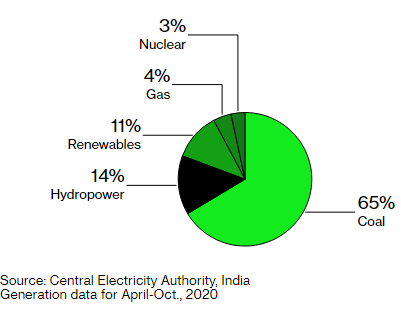 India is planning the largest auction of coal mines in the country despite the argument surrounding its role in contributing to climate change. The country will auction 67 mines—the most ever in a single auction. Winners will be allowed to produce and sell the fuel, a reform meant to dislodge state monopoly over the domestic coal market and open it up to private firms. The deadline for submitting technical bids is May 27 and electronic auctions are scheduled from June 28 to July 28, according to the country's coal ministry. India sees private coal mining as a way to create jobs that have been devastated by the pandemic. According to the ministry, mining projects will bring in new investments and boost socio-economic development in mining regions.
Despite its move to privatize coal mining, India's coal power capacity increased by just 0.7 gigawatts in 2020, with 2.0 gigawatts commissioned and 1.3 gigawatts of its older inefficient units retired.
China
China generated 53 percent of the world's total coal-fired power in 2020, nine percentage points more than five years earlier, despite staying in the Paris accord with its climate pledges and the building of hundreds of renewable energy plants. Although China added a record 71.7 gigawatts of wind power and 48.2 gigawatts of solar last year, it was the only G20 nation to see a significant jump in coal-fired generation. China's coal-fired generation increased by 1.7 percent (77 terawatt-hours), increasing global coal power to 53 percent from 44 percent in 2015. China has promised to reduce its dependence on coal and bring emissions of greenhouse gases to a peak by 2030 and become "carbon neutral" by 2060, despite its enormous investment in carbon dioxide intensive generation and industrial facilities.
China's new coal capacity in 2020 more than offset the retirements in coal capacity in the rest of the world, leading to the first increase in global coal capacity development since 2015. China's new coal-fired power installations totaled 38.4 gigawatts in 2020, more than three times the amount built by the rest of the world, more than offsetting the 37.8 gigawatts of world coal capacity retired last year. China also approved 46.1 gigawatts of new coal-fired projects last year, more than the previous three years combined, with new projects still getting the go-ahead until late in the year. These new announcements are equal to the coal power capacity of Germany and Poland combined. Despite commitments to become a net-zero emission economy by 2060, China commissioned more coal-fired capacity last year than the rest of the world retired.
China's coal boom accounted for 76 percent of the global 50.3 gigawatts of new coal capacity. Globally, commissioning of new plants dropped by 34 percent in 2020 due to difficulties obtaining financing and delays due to the coronavirus pandemic. China also has 88.1 gigawatts of coal power under construction and another 158.7 gigawatts are proposed for construction. Meanwhile, most of the rest of the world is retiring coal capacity. Last year, the retirements were led by the United States with 11.3 gigawatts and the European Union with 10.1 gigawatts of retired coal capacity.
China cut the share of coal in total energy consumption from around 70 percent a decade ago to 56.8 percent last year. But coal generation increased 19 percent over the 2016-2020 period. China is expanding its energy output in all sources dramatically, including renewables, natural gas, hydroelectric, and nuclear. In its 2021-2025 five-year plan, China vowed to "rationally control the scale and pace of development in the construction of coal-fired power." That may be all rhetoric. China previously included a cap on energy consumption in its five-year plans, but none was included in the 2021-2025 document.
Conclusion
John Kerry, Biden's special climate envoy, has traveled to both India and China to promote the U.S. climate agenda. The United States and China agreed to work together to tackle global climate change, including by "raising ambition" for emissions cuts during the 2020s. But, the document from that meeting lacks specifics, including any new emissions targets from either country. As noted above, China is a major user of coal-fired power plants, and is building them speedily in China and elsewhere. There are concerns that it is taking a fossil fuel intensive approach to its Belt and Road Initiative involving many developing nations. Both India and China attended Biden's virtual climate meeting on April 22 and 23. But, while both countries claim to want to participate in the climate change agenda, their actions tell a somewhat different story. And as many of us learned as children, "actions speak louder than words."