China's energy regulator indicated the country will speed up efforts to ensure its wind and solar power can compete without renewable subsidies and achieve "grid price parity" with traditional energy sources. China is encouraging renewable manufacturers and developers to drive down costs through technological innovations and economies of scale in order to phase out power generation subsidies, which have become an increasing burden on the state.
China owes about 120 billion yuan ($17.5 billion) in subsidies to solar plants despite cutting its subsidies to solar power and capping new capacity at 30 gigawatts this year—down from a 53 gigawatts in 2017—because the government is concerned about overcapacity and a growing subsidy backlog.
China's National Energy Administration issued the draft guidelines on September 13, 2018, indicating that some regions with cost and market advantages had "basically achieved price parity" with clean coal-fired power and no longer required subsidies, and that other regions should learn from their experiences. The draft guidelines urged transmission grid companies to provide more support for subsidy-free projects and ensure they have the capacity to distribute all the power generated by wind and solar plants. Currently, China is soliciting feedback from the industry and has not given a date for implementation of the guidelines.
Coal Construction Continues
While China is putting the brakes on its renewables, it has restarted coal-fired projects that had been put on hold. Approximately 46.7 gigawatts of new and restarted coal-fired power construction has been spotted through satellite imagery. The coal-fired power plants are either already generating power or will soon be operational, increasing China's coal-fired power capacity by 4 percent.
Coal consumption in China increased 3.1 percent in the first half of 2018 compared with the same period last year due primarily to coal-fired generation. Electricity consumption increased 9.4 percent during that period. A rebound in industrial demand for electricity and electric power shortages during the summer in some regions have made policy-makers more accepting of overcapacity from demand-responsive generation. Economic data for the first half of 2018 indicate that China's power demand is rebounding.
Despite the change in coal-fired plant construction, overcapacity is still a problem in China. Utilization rates for coal-fired plants recovered slightly from a 50-year low in 2016, but have not even returned to 2015 levels. About half of the country's coal-fired power plants were running at a loss in the first six months of this year due to high coal prices. Because of capacity cuts in its domestic mining sector, China's coal imports increased, driving global prices for thermal coal that is used to generate electricity.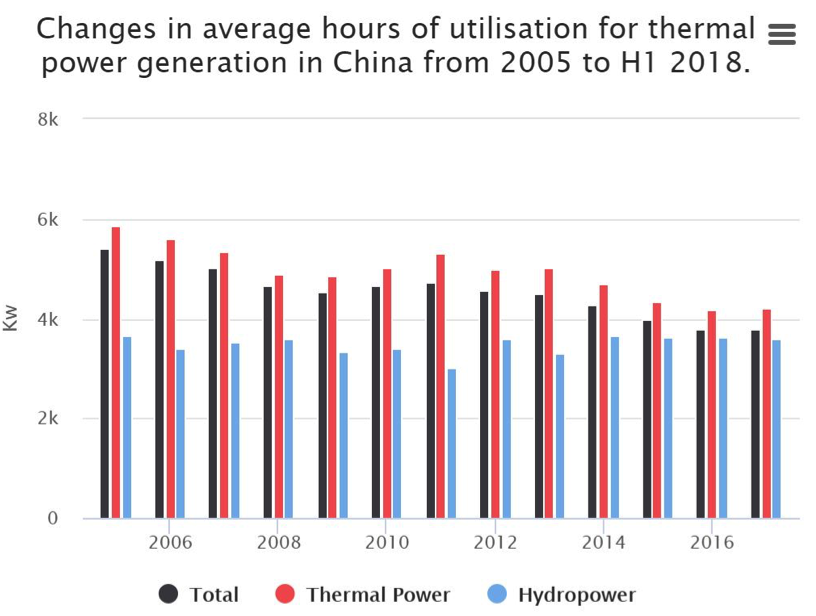 Thermal Generation Outpaces Renewable Generation
Despite China's push to ensure all solar and wind production is distributed by the grid, China's thermal electricity production (coal, natural gas, oil, and biomass) is increasing much faster than its renewable (wind and solar) electricity production. In the second quarter of 2018, wind and solar generation increased by 51 terawatt hours while thermal electricity production increased by 176.9 terawatt hours—about 3.5 times as much. Together wind and solar power represented just 21 percent of the increased power generation in the second quarter, while thermal power provided 72 percent.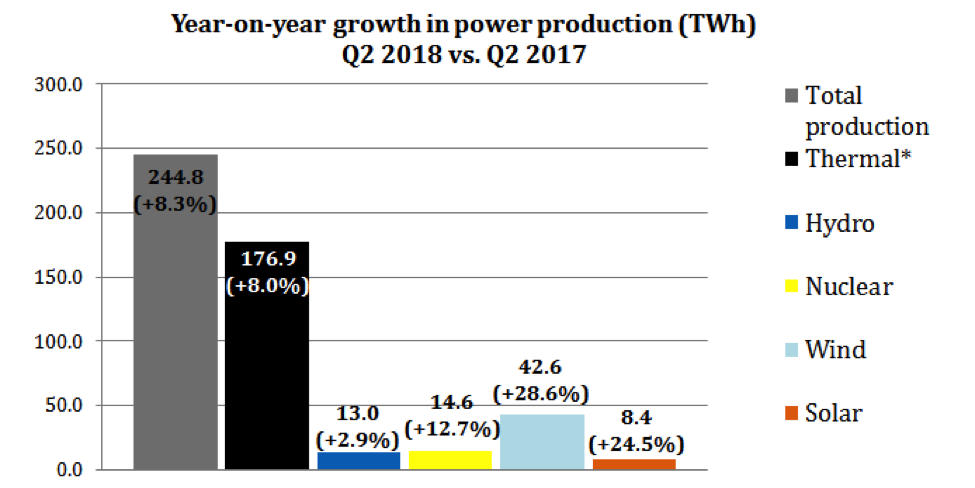 Conclusion
China is still counting on coal to keep the lights on and keep its industrialization booming. While it has invested heavily in subsidizing its solar power industry, it realizes it cannot continue with the massive subsidies and has issued draft guidelines to phase them out. Despite having overcapacity and underutilized plants, it is continuing to construct coal-fired plants to ensure that power is available throughout the country and throughout the day.