The Indian Government is on its way to achieving the goal of universal household electrification through the opening of 52 new coal mines since Narendra Modi's government came to power in May 2014. Structural reform and the elimination of red tape and cumbersome procedures have been key to the progress. Nearly 20,000 villages in India and 24.8 million families have received power connections as a result. The 52 new coal mines reflect an 86 percent increase over the 28 mines it added in the five-year period between 2009 and 2014. The new mines added 164 million metric tons to India's annual coal production capacity, increasing capacity by 113 percent over 2009-2014 additions. India generates 57 percent of its electricity from coal. The new mines have made electrification possible since India could meet the additional electricity demand of 5 to 6 percent through coal-fired electricity generation.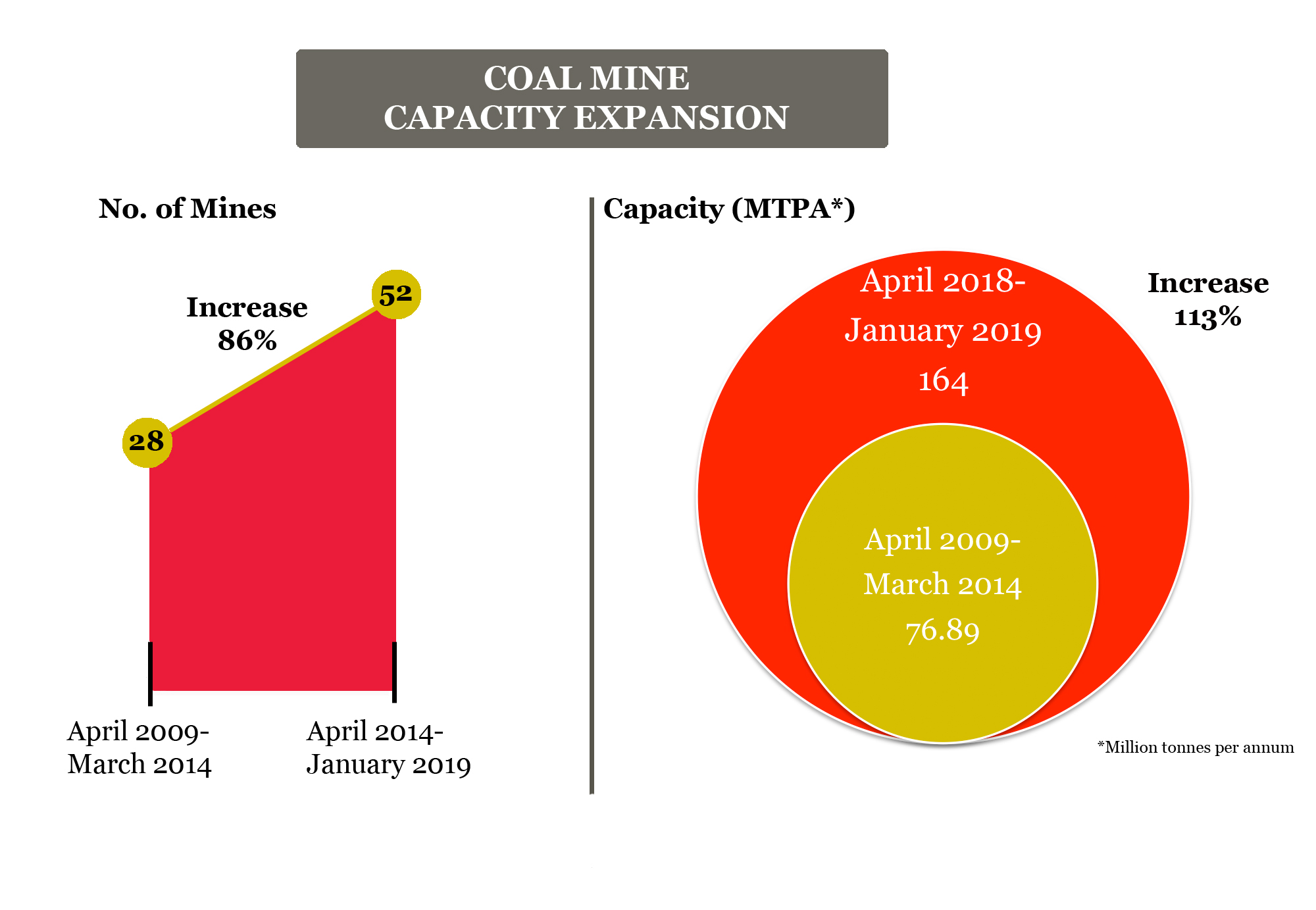 That reduced the shortfall in electricity generation by 90 percent from 7.3 percent in the 2004 to 2005 fiscal year to 0.7 percent in the 2017 to 2018 fiscal year, as the graphic above denotes.
The Indian government is increasing its spending on exploration for coal and lignite by 20 percent in the coming financial year, obtaining the funds by redirecting moneys previously allocated to mine safety and land conservation. According to the government, coal companies have adequate safety budgets of their own. State-run Coal India Limited generates over four-fifths of the country's coal production. It allocated 8.6 billion rupees ($120 million) for safety-related expenditures for the year ending March 2019, an increase from 8 billion rupees ($112 million) a year earlier.
India is one of the world's largest consumers of coal and its rising imports of coal were adding to its trade deficit, prompting the government to invest in developing more domestic resources. In the 2019/20 financial year that begins in April, the government plans to spend 6 billion rupees ($84 million) on exploration of coal and lignite, and cut spending on conservation, safety and related infrastructure development by about a third to 1.35 billion rupees ($19 million). The increased spending on exploration is to increase domestic production and decrease imports.
India's coal production totaled 433.9 million metric tons during the April to November 2018 period—a growth rate of 9.8 percent. Though not every household is on the electric grid yet, in April, the government completed the task of hooking up all of the 18,452 inhabited villages.
Conclusion
The Modi government has completed one of its promises in electrifying India's thousands of villages. It has accomplished that goal through its vast resources of coal, cutting red tape to get 52 new mines open over the past 5 years. It will continue its exploration of coal resources to increase domestic production and decrease imports, moving to a more favorable trade balance.
Previous IER articles on Indian electrification efforts can be found here and here.