The European Union (EU) has realized that natural gas will have to complement intermittent renewable sources like solar and wind in order for European nations to exit from coal and nuclear power and reach their commitments to the Paris Agreement. Germany, for example, plans to shut down its coal plants by 2038 and will build natural gas plants to back up its wind and solar plants. Its natural gas supply will come mainly from Russia via the Nord Stream pipelines and from liquefied natural gas (LNG) as the country intends to build at least one regasification facility. By 2050, however, the EU wants no fossil gas to be used so the European Commission is also working to create favorable conditions for synthetic, renewable gases. All of these machinations are attributable to political decisions being forced on the system as a consequence of European nations' signatures on the Paris climate accord.
Germany's Energy Plan
The German government decided to shutter its nuclear power plants by 2022 due to the accident at the Fukushima nuclear plants in Japan resulting from the tsunami that hit in 2011. Germany has closed 12 of 19 nuclear plants to date, replacing them with wind and solar plants. Currently, Germany is backing up the intermittent renewable plants with coal-fired plants, which accounts for 40 percent of Germany's electricity generation—larger than coal's contribution to electricity in the United States. But, the country has now decided to phase out its coal plants by 2038, which will require an estimated investment cost of $45 billion.
In their stead, Germany will turn to natural gas to back up its renewable plants. Germany will build a significant number of small, new gas-fired power plants to provide electricity supply and grid stability. Some existing coal-fired plants may also be converted into natural gas facilities.
Germany currently gets its natural gas by pipeline with Russia providing a majority amount. The German government has promised financial support for domestic liquefied natural gas (LNG) import terminals with the goal of increasing LNG imports from the United States and diversifying the German energy supply. According to the German government, Russian gas offers a price advantage, currently around 20 percent lower than American liquefied natural gas. But, it also carries a substantial political risk.
Nord Stream 2 Pipeline
The Nord Stream 2 pipeline is currently under construction and is expected to be complete by the end of this year. About 800 kilometers out of a total of 1,230 kilometers of pipeline has already been laid— about 65 percent of the total system. The pipeline will transport 55 billion cubic meters of Russian natural gas annually under the Baltic Sea to the German coast, doubling the annual capacity to 110 billion cubic meters. Nord Stream 2 follows the Nord Stream pipeline, a 750-mile link that channels Siberian gas under the Baltic Sea. Gazprom will cover around 50 percent of the €9.5 billion ($10.67 billion) costs, and the rest is split between several European companies: ENGIE, OMV, Royal Dutch Shell, Uniper, and Wintershall.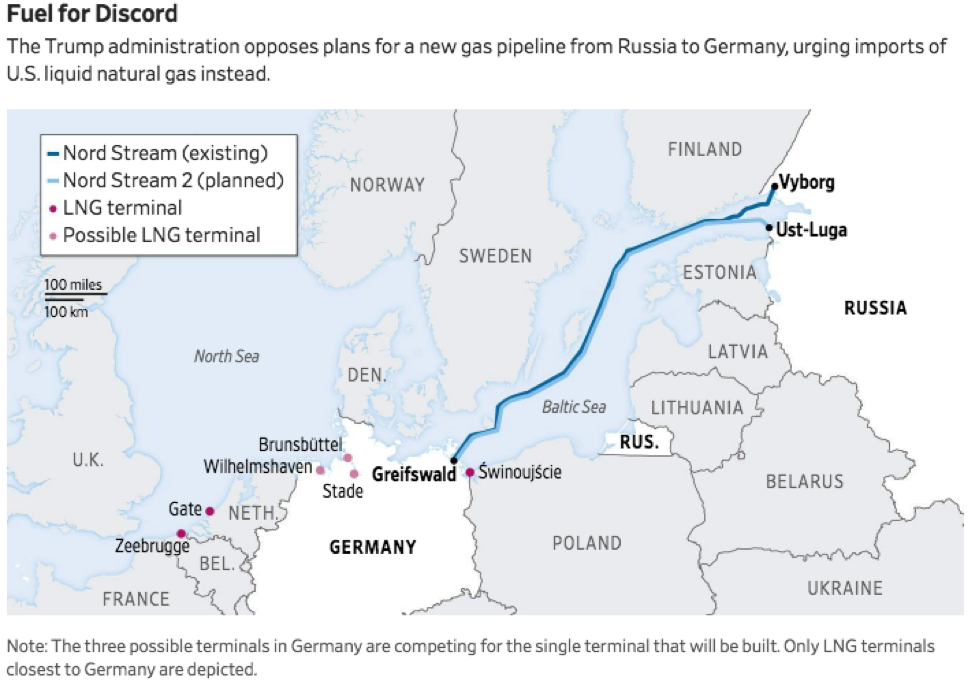 The EU receives almost 40 percent of its energy imports from Russia, and Nord Stream 2 would likely increase that volume. Besides being more dependent on Russian gas, another concern for the EU is that Nord Stream 2, which would bypass Ukraine, would deprive it of fees on Russian gas crossing its territory, representing over 2 percent of Ukraine's GDP in 2017.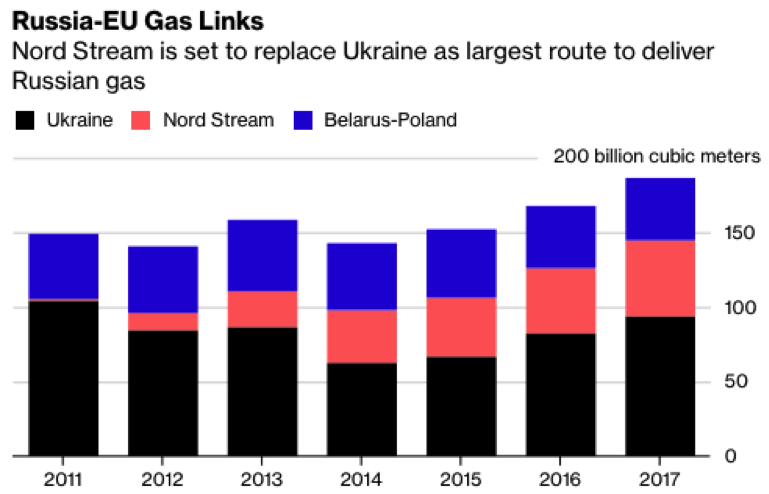 The pipeline has been controversial and President Trump has indicated that the pipeline harms security in Europe by making them more dependent upon the Russian government. Many European countries share President Trump's concerns. Poland, for example, opposes the project because it fears the pipeline would make the country more vulnerable to Russia's political pressure.
A new issue is that Denmark's Energy Agency, which is carrying out an assessment on how the gas pipeline would affect the environment in its exclusive economic zone of the Baltic Sea, has asked the pipeline company to evaluate an alternate route. Denmark requested Nord Stream 2 to include a route option in the Danish exclusive economic zone to the south of Bornholm and the Nord Stream 2 developers said that they will evaluate it.
Conclusion
Europe needs natural gas to back up its intermittent renewables and to meet its Paris commitments without using coal and nuclear power. The Nord Stream 2 pipeline, which will carry natural gas from Russia to Germany, is planned to help that endeavor. However, the United States, as well as many European countries, see it as making Europe more dependent on Russian energy supplies and harming security. Considering that most of the pipe is already laid, the project is likely to be completed by the end of the year, as expected. It is an increasing irony that EU nations' signatures on the Paris Agreement are actually increasing their exposure to potential political pressure from the Russian government.