Virginia recently set a statewide goal of building 5 gigawatts of renewable energy by 2028 and it plans to develop 2 gigawatts of it using offshore wind. On November 6, Virginia's State Corporation Commission approved a project to construct 12-megawatts of wind turbines 27 miles off the coast of Virginia Beach in federal waters. The plan is to have the wind turbines operating by the end of 2020, making that project a steppingstone to the state's goal. The project is intended to determine how the technology works and performs in the Atlantic Ocean, with its potential for hurricane force winds.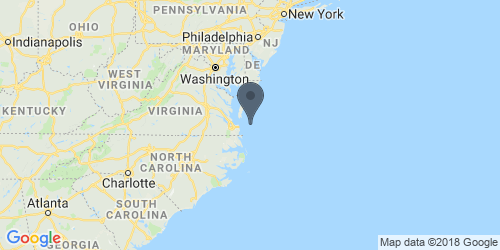 At $300 million, the project is not the least expensive way to provide electricity—in fact, at $25,000 per kilowatt, it is quite a bit more expensive than natural gas combined cycle. According to the Energy Information Administration, the natural gas combined cycle technology costs less than $1,000 per kilowatt to build. Virginia electricity ratepayers will pay the exorbitant costs of the project—over 25 times higher than this alternative.
Further, according to the Energy Information Administration, a new offshore wind farm is expected to cost $138 per megawatt hour to operate, which is more than double other renewable energy alternatives—a new onshore wind farm or a new solar photovoltaic plant.
The project, Coastal Virginia Offshore Wind, if built, will be the first offshore wind project in the mid-Atlantic. Dominion Energy and Orsted A/S of Denmark plan to erect two six-megawatt wind turbines supplied by Siemens Gamesa of Spain. The turbines have a projected 25-year lifespan—far less than coal, natural gas, and nuclear units that can operate for 50 years or more. The project design specifications call for the wind turbines to survive sustained winds of 112 miles per hour and waves of 51 feet.
But, these design specs may not be sufficient to withstand hurricanes. According to the National Hurricane Center, Category 3 hurricanes exhibit sustained winds of 111 to 129 mph. Category 1 hurricanes typically drive waves much higher than 50 feet. Hurricane Florence measured Category 1 wind speeds when it crossed the coast at Wrightsville Beach, North Carolina, on September 14. And, just two days before, wave heights of 83 feet were recorded on the northeast side of the hurricane.
Other Offshore Wind Projects
The only offshore wind farm currently operating in the United States is located off of Block Island, Rhode Island, and consists of five wind turbines. Block Island is a unique situation in which wind is displacing diesel generators at a similar cost for electricity. More on the Block Island wind farm can be found here. Another proposed offshore wind farm was to be constructed off the coast of Cape Cod, Massachusetts but was cancelled due to opposition and high cost.
The Virginia offshore wind project, however, is not the only offshore wind project being proposed in federal waters. Interior Secretary Ryan Zinke proposed leasing 390,000 acres off the Massachusetts coast for wind generation and his agency issued a call to companies to gauge interest in leasing about 688,000 acres off the coast of Central and Northern California for offshore wind development. The governor of New Jersey signed an executive order to boost the growth of offshore wind installations. Massachusetts, Rhode Island, New York, and Maryland have proposed offshore wind projects. These projects are finding resistance because residents are worried about the wind farms' towers obstructing views and suppressing property values, and fishermen are worried about the effect of the turbines on their livelihood.
The Coastal Virginia Offshore Wind project is the southernmost proposed wind project along the Atlantic Coast and the site of periodic hurricane activity, as mentioned above.
Conclusion
Virginia is the most recent coastal state looking to build an offshore wind farm as part of a mandate for renewable energy production. Unfortunately, offshore wind is one of the most expensive renewable technologies and the ratepayers of Virginia will have to bear the cost if the wind farm comes to fruition. The construction costs for this project are over 25 times more than the cost of a combined cycle natural gas plant. Virginia's electricity prices are currently low, ranking 28th among the states for residential electricity, but these prices will not remain that low if the state experiments with high cost renewable technologies.