In his recent speech on climate change at the United Nations, President Obama stated: "Over the past eight years, the United States has reduced our total carbon pollution by more than any other nation on Earth."[i] He is correct that the United States has reduced its carbon dioxide emissions more than any other country in that 8 year period. According to the BP Statistical Review, between 2005 and 2013, the United States reduced its carbon dioxide emissions by 563 million metric tons, while the greatest reduction in Europe was made by Italy at 115 million metric tons, followed by Spain at 109 million metric tons. Offsetting the reductions is China with an increase of 3,950 million metric tons of carbon dioxide and India with an increase of 751 million metric tons. Worldwide emissions increased by 5,615 million metric tons over that 8 year period with China contributing 70 percent to the increase. [ii]
President Obama spoke at the U.N. to try to build support for all nations to reduce carbon dioxide emissions, but developing countries show no signs of reducing energy use and consigning billions of their inhabitants to a dismal, poverty-filled future.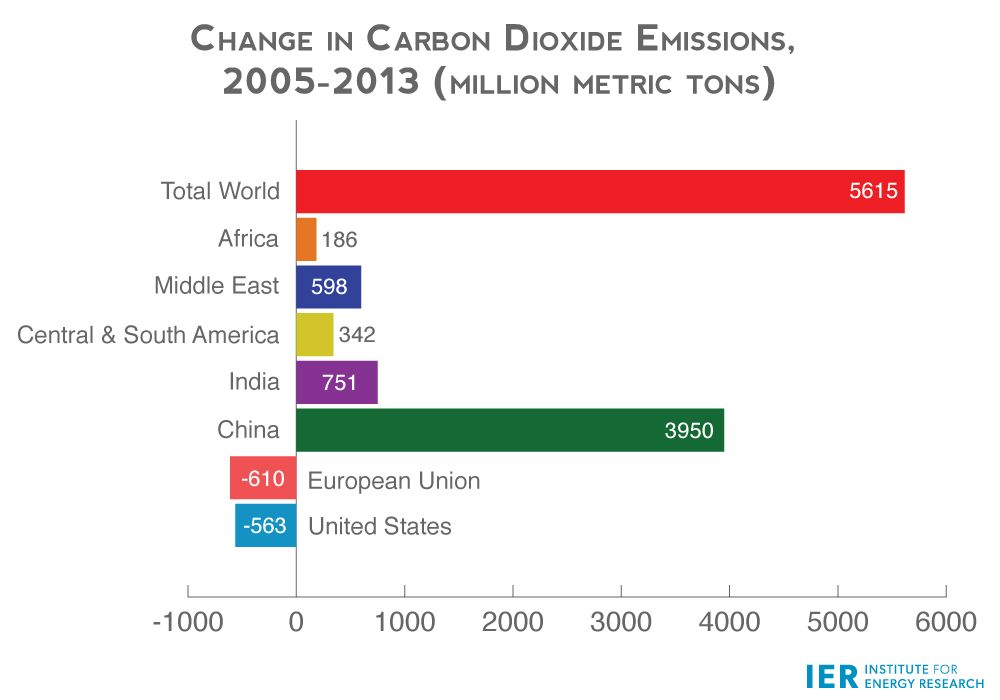 Source: BP Statistical Review 2014, http://www.bp.com/en/global/corporate/about-bp/energy-economics/statistical-review-of-world-energy/statistical-review-downloads.html
Why Carbon Dioxide Emissions Fell in the United States
This monumental reduction in U.S. carbon dioxide emissions was not due to policies enacted by the Obama Administration but despite them. While the Administration is promoting renewable energy and shoveling billions of tax dollars in subsidies to renewable technologies, the oil and gas industry applied hydraulic fracturing and directional drilling to produce natural gas from shale formations, drastically reducing the price of gas, and displacing coal in the electric power generation market. Solar and wind power, making up about 4 percent of U.S. electric generation in 2013 had very little to do with the electric generation sector's reduction in carbon dioxide emissions. That reduction in electric sector carbon dioxide emissions was 60 percent of the total reduction in U.S. carbon dioxide emissions over the eight-year period from 2005 to 2013.
The U.S. transportation sector contributed more than 25 percent to the reduction in U.S. carbon dioxide emissions between 2005 and 2013 as Americans started driving less when gasoline prices hit highs in 2008 and continued the decline due to high gasoline prices throughout the Obama Presidency. President Obama is taking credit for this reduction in carbon dioxide emissions due to the increase in corporate average fuel efficiency standards that he championed setting an average fuel economy standard equivalent to 35.5 miles per gallon[iii] in 2016 and 54.5 miles per gallon in 2025.[iv] While the earlier increases have taken effect, the average on the road vehicle efficiency has not increased since 2008,[v] making it unclear whether Americans actually intend to purchase the higher efficiency vehicles. According to this article, Americans still prefer trucks and SUVs to small efficient vehicles.[vi] Further, as the Bureau of transportation Statistics reports, between 2008 and 2012, the average fuel consumed per light duty vehicle increased 11 percent.[vii]
Ford recently hinted to its investors that the costs to add hybrid systems or lower the weight of vehicles in order to meet fuel economy standards could not be fully covered by pricing vehicles higher. According to Raj Nair, Ford's product development chief, "The market demand for fuel economy is not matching the regulatory demand for fuel economy."[viii] That is a nice way of saying the government is forcing auto manufacturers to develop cars people do not want to buy.
India Would Rather Lift Indians Out of Poverty than Reduce Carbon Dioxide Emissions
Despite India being the world's third largest carbon dioxide emitter, behind China and the United States, the country has not made carbon dioxide reductions a priority. According to India's Environment Minister, the country's first priority is to alleviate poverty and improve the nation's economy, which will involve an increase in carbon dioxide emissions through new coal-powered electricity and transportation. He predicted that that India would not see a decrease in carbon dioxide emissions for at least 30 years. He expects coal to provide more than half of India's power for the foreseeable future in order to supply energy to the country's more than 300 million people without power.[ix]
President Obama, realizing that without India, it will be more difficult to reach a lasting agreement on a global climate treaty, recently hosted India's newly elected Prime Minister Narendra Modi , who did not attend the U.N. climate summit. Mr. Obama and Prime Minister Modi reached an agreement on measures intended to accelerate India's shift to renewable fuels and to reduce emissions of hydrofluorocarbons (HFCs), the chemical refrigerants used in air conditioners and home appliances. Part of the agreement entailed the Obama administration clearing the way for $1 billion in financing from the U.S. Export-Import Bank to help India purchase American technology for renewable energy projects. According to the White House, other measures would expand U.S.-Indian cooperation on improving air quality and energy efficiency, and on helping coastal cities prepare for flooding and other weather-related disasters. [x]
Despite Prime Minister Modi being an advocate of solar energy, having championed the country's large Gujarat Solar Park, he faces pressure to accelerate India's economic development by providing reliable electricity to its 1.2 billion citizens. Like China, India is rapidly building coal-fired generators, which has led to large increases in carbon dioxide emissions and reluctance by Indian officials to commit to reductions.
China Wants to Provide Energy to Grow Their Economy
Chinese president Xi Jinping was also absent from the U.N. summit, sending Vice Premier Zhang Gaoli as his envoy. The biggest commitment China made at the summit was its pledge to provide $6 million to promote South-South cooperation on climate change and the doubling of its annual financial support for the South-South cooperation fund. China also restated its commitment to reduce carbon intensity (carbon dioxide emissions per unit of GDP) by 40 to 45 percent from 2005 levels by 2020. Vice Premier Zhang would not make any post-2020 commitments and he refused to set a date when China's greenhouse gas emissions would hit a peak. It is likely that China will not provide any post 2020 commitments until 2016 when it releases its 13th Five Year Plan. China's economy is vulnerable and the country is not interested in taking on new economic stressors.[xi]
Despite being a developing country, China is the world's largest emitter of carbon dioxide. China believes it has a "right" to develop its economy as the developed world has already done, which leads to higher emissions. Coal consumption in China is at 4 billion tons, more than 4 times the amount that the United States consumes. Coal use has skyrocketed in China in concert with its industrialization. But, China releases less per capita emissions than many developed countries: China's per capita emissions are 7 metric tons, while the United States releases 17 metric tons per person and Australia releases 16 metric tons per person.[xii] However, China has just surpassed the European Union in annual greenhouse gas emissions per capita.[xiii]
European Commitments Remain the Same
The European Union brought nothing new to the table at the most-recent U.N. summit despite being gung-ho regarding combating climate change from Kyoto Protocol ratification days. Europe is in turmoil as economies have grown stagnant, unemployment and electricity rates have skyrocketed, and taxes and welfare costs have increased. Public support for a united Europe has fallen sharply. European policies to curb carbon dioxide emissions and to rapidly convert to renewable energy are not working. Not long ago, Germany was seen as an example to model. But German growth rates have plummeted, going negative in the last quarter. Additional stagnation can be expected as energy costs surge and key export markets begin to contract.[xiv]
The European-wide embrace of renewable energy policies has been tough particularly for manufacturers. Under Chancellor Merkel, Germany has embraced a massive shift to renewable energy that has raised electricity costs for companies by 60 percent over the past five years as subsidy costs are passed onto consumers. They are now more than double the rates in the United States. Germany has had to increase its use of coal to make up for shortfalls created by shuttering nuclear plants and overreliance on unreliable, intermittent renewable power. Ultimately, high energy prices tend to fall painfully on the middle and working classes in the form of higher electricity bills. Further, unemployment rates will increase more as companies move offshore to reap the benefits of lower energy costs.
It is no wonder that German Chancellor Merkel did not attend the U.N. Summit.[xv] Europe's disastrous policies should serve as a message for the United States to avoid.
Conclusion
President Obama wants the United States to model its energy policies based on European policies. But, those policies have not worked. Rather, the United States has reduced its greenhouse gas emissions by more than any other country in the world over the last 8 years, without the escalating energy costs and unemployment rates that have racked Europe. But, President Obama is not sufficiently satisfied with that milestone and is imposing further regulations on energy companies that will do little to offset the greenhouse gas emission increases of the developing world, particularly China and India. With gasoline prices over $3.00 a gallon and electricity prices to households on the increase this year[xvi], President Obama would do well to retire his Administration's proposed environmental regulations before the United States ends up like Europe – with dwindling support for a unified country.
[i] Washington Times, Fracking is the Answer to Global Warming, September 26, 2014, http://www.washingtontimes.com/news/2014/sep/26/moore-fracking-is-the-answer-to-global-warming/#ixzz3EjiOWpYc
[ii] BP, Statistical Review 2014, http://www.bp.com/en/global/corporate/about-bp/energy-economics/statistical-review-of-world-energy/statistical-review-downloads.html
[iii] Environmental Protection Agency, EPA and NHTSA Finalize Historic National Program to Reduce Greenhouse Gases and Improve Fuel Economy for Cars and Trucks, http://www.epa.gov/otaq/climate/regulations/420f10014.pdf
[iv] U.S. News, 54.5 MPG For All Cars By 2025With New CAFÉ Standards? Not Exactly, August 29, 2012, http://www.usnews.com/news/articles/2012/08/29/545-miles-per-gallon-for-all-cars-by-2025-not-exactly
[v] Bureau of Transportation Statistics, Average Fuel Efficiency of U.S. Light Duty Vehicle, http://www.rita.dot.gov/bts/sites/rita.dot.gov.bts/files/publications/national_transportation_statistics/html/table_04_23.html
[vi] Institute for Energy Research, Despite Gas Prices Over $3.00, Americans Want Trucks and SUVs, September 12, 2014, https://www.instituteforenergyresearch.org/analysis/despite-gas-prices-3-00-americans-want-trucks-suvs/
[vii] Bureau of Transportation Statistics, Light Duty Vehicle, Short Wheel Base and Motorcycle Fuel Consumption and Travel, http://www.rita.dot.gov/bts/sites/rita.dot.gov.bts/files/publications/national_transportation_statistics/html/table_04_11.html
[viii] Wall Street Journal, Ford Sharply Cuts Full-Year Forecast, September 29, 2014, http://online.wsj.com/articles/fords-next-super-duty-pickup-to-be-aluminum-1412015106?mod=WSJ_hp_LEFTWhatsNewsCollection
[ix] New York Times, Emissions from India will Increase, Official Says, September 24, 2014, http://www.nytimes.com/2014/09/25/world/asia/25climate.html?_r=1
[x] Washington Post, Obama and Modi announce agreement on U.S.-India efforts to fight global warming, September 30, 2014, http://www.washingtonpost.com/national/health-science/obama-modi-announce-modest-progress-in-joint-efforts-to-fight-global-warming/2014/09/30/c3e7464e-48aa-11e4-b72e-d60a9229cc10_story.html
[xi] The Diplomat, What Did China have to offer at U.N. Climate Summit 2014?, September 24, 2014, http://thediplomat.com/2014/09/what-did-china-have-to-offer-at-un-climate-summit-2014/
[xii] The Diplomat, China's Climate Change Paradox, September 30, 2014, http://thediplomat.com/2014/09/chinas-climate-change-paradox/
[xiii] Guardian, Record CO2 emissions 'committing world to dangerous climate change', September 21, 2014, http://www.theguardian.com/environment/2014/sep/21/record-co2-emissions-committing-world-to-dangerous-climate-change
[xiv] New Geography, The Sick Man of Europe is Europe, September 25, 2014, http://www.newgeography.com/content/004535-the-sick-man-of-europe-is-europe
[xv] Guardian, Leaders under fire for failure to attend post-UN climate summit meetings, September 24, 2014, http://www.theguardian.com/environment/2014/sep/24/leaders-under-fire-for-failure-to-attend-post-un-climate-summit-meetings
[xvi] Boston Globe, Electric rates in Mass. Set to spike this year, September 25, 2014, http://www.bostonglobe.com/business/2014/09/25/national-grid-projects-percent-increase-for-winter-electricity-rates/MBl81NGxTljzr56PZCD7QK/story.html