The [A123] plant's opening "is about the birth of an entire new industry in America — an industry that's going to be central to the next generation of cars," Obama said. "And it's going to allow us to start exporting those cars, making them comfortable, convenient and affordable. It helps our manufacturing industry to thrive, and with it, that means our communities and our states and our country are going to thrive."[i]

A123 Systems, a producer of batteries for electric vehicles, filed for bankruptcy on October 16, after being awarded $249 million in federal grant money from the Obama Administration to jump start a domestic battery industry for President Obama's "one million electric vehicles by 2015" program.  A123 Systems was considered to be a promising grant recipient by the Department of Energy (DOE) under its $2 billion stimulus program for electric car development. The company received about $132 million of the grant before filing for bankruptcy. Besides federal money, A123 Systems received a $9 million grant from the state of Michigan, as well as $100 million in tax credits and $41 million in tax breaks and subsidies.[ii] Ener1, another battery manufacturer, went bankrupt in January having received about half of the $118.5 million in grants approved by the Energy Department.[iii] The total is now 20 companies that the Obama Administration has provided taxpayer funds to that are either bankrupt or in distress in the Administration's quest to push technologies upon the American public that are uneconomic.[iv]
A123 Systems and Ener1
Before filing for bankruptcy, A123 Systems was considered a centerpiece of the government's electric-vehicle program, with two factories in Michigan and contracts to supply batteries to automakers including General Motors and Fisker Automotive, a company that makes $102,000 electric vehicles in Finland.[v]  A123 was also very politically involved[vi], which is characteristic of government green energy program recipients.
A123 Systems has been in financial trouble for over a year, having provided defective batteries to Fisker Automotive that had to be recalled at a cost of $55 million, and not being able to generate enough revenues despite orders for its electric-vehicle batteries. That is because Obama's program for 'one million electric vehicles by 2015' is moving very slowly with just 17,300 electric hybrid and plug-in vehicles sold in 2011 out of 12.8 million new light duty vehicles.[vii]
A123, based in Waltham, Massachusetts, tried to remain solvent by agreeing to sell up to 80 percent of its company to the American branch of the Wanxiang Group, China's largest auto parts manufacturer, in August—a deal that worried policy makers, who believed we were again providing technology and products developed by American taxpayer funds to the Chinese. Wanxiang, which has its U. S. headquarters outside Chicago, pledged to invest up to $465 million in A123 Systems, but reneged on the deal "as a result of unanticipated and significant challenges to its completion," according to an A123 executive.  A123 also failed to make a debt payment that was due October 15 on $75 million that it had borrowed from Wanxiang.
Now, A123 Systems intends to sell its 2 factories and equity interest in battery facilities in China to Johnson Controls, another American battery producer that is based in Wisconsin and that has also benefited from a federal grant totaling $299 million for an electric-car battery project. (Johnson Controls has used about $123 million of that grant so far.)  Johnson Controls has already heavily invested in China battery production, and planned to produce 30 million batteries annually at its Chinese factories prior to the A123 deal.[viii] The deal between A123 Systems and Johnson Controls is valued at $125 million. A123's purpose in filing for Chapter 11 bankruptcy protection is to ease the sale of its automotive assets to Johnson Controls, who said it would provide $72.5 million in financing for A123's reorganization in bankruptcy.
Wanxiang, however, may still be interested in taking over A123 since the bankruptcy filing may turn A123 into a more attractive investment. According to Ni Pin, President of Wanxiang's U.S. operations, court proceedings would clear out the legal risks.
Ener1 filed for bankruptcy earlier this year, three years after receiving a $118.5 million grant from the Department of Energy. Ener1 makes a variety of energy storage devices under different subsidiaries and is the parent company of EnerDel, the car battery division that received a government grant to help build a manufacturing plant in Indianapolis. According to the company, the restructuring will allow it to reduce its debt and free up $81 million for capital spending.[ix]
Electric Vehicle Companies
Electric vehicle producers are having trouble selling their vehicles because of their expense and low demand. Fisker Automotive, for example, received a $529 million DOE grant to produce electric vehicles, but those vehicles are so expensive only the wealthy can afford them. Fisker's Karma model is priced at $107,850 and its Atlantic model at $55,000. On October 15, Fisker delayed production of its mid-size gasoline-electric sedan by at least two years.[x]
The Chevy Volt, a gas-electric hybrid produced by general Motors, also continues to sell poorly because of its $40,000 price tag—about twice as much as a comparable high-mileage, gas-powered car sold by GM. To make up the difference in price premium, a Chevy Volt owner would need to drive the vehicle for 12 years or gasoline prices would need to reach $12.50 per gallon[xi]. Due to sluggish sales, GM had to suspend production of the Volt for a week this summer after first idling 1,300 workers for several weeks. GM received $2.3 billion in federal subsidies and $690.4 million in state incentives to produce the Volt. One analysis indicates that the Chevy Volt is costing taxpayers up to $250,000 per vehicle built.[xii] According to Dan Akerson, CEO of GM, the average annual income of the Chevy Volt's buyers is $170,000.[xiii] That compares to a median household income in the United States of $51,413 as of the end of 2011.[xiv]
Tesla, another electric car manufacturer, received a $465 million federal loan in 2009 and lost $522.8 million within two years. Tesla's premium electric vehicle was priced at $101,000, which like the Fisker's premium model is not affordable for the average American car buyer.
Unfortunately for the Obama Administration and American taxpayers whose money has been used by the Administration to provide grants and tax breaks, electric vehicle technologies are so expensive that it would take the average driver more than a decade to save money over comparable models with conventional internal-combustion engines – even with gas prices as high as $5 per gallon. In fact, gas prices would have to approach $8 per gallon before many alternative fuel vehicles would pay off in the 6 years an average person owns a car.
According to Peter Grady, Vice President of Chrysler, "The electric technology just isn't advanced, it's not there, and there's so much innovation that's required to make it viable" and according to Takeshi Uchiyamada, Vice Chairman of Toyota, "The current capabilities of electric vehicles do not meet society's needs, whether it may be the distance the cars can run, or the costs, or how it takes a long time to charge."[xv]
Status of President Obama's Stimulus Program
History has shown that the government has a poor track record for picking winners and losers in the market place. Yet, the Obama Administration continues to deploy taxpayer funds to do just that. Below is a list of companies compiled by the Republican Policy Committee that have received grants from the Obama Administration and who have either filed for bankruptcy or are in distress. Note that the table does not include the solar firm, Satcon Technology Corp., who filed for bankruptcy on October 17, 2012, after being awarded a $3 million grant  from DOE earlier this year.[xvi]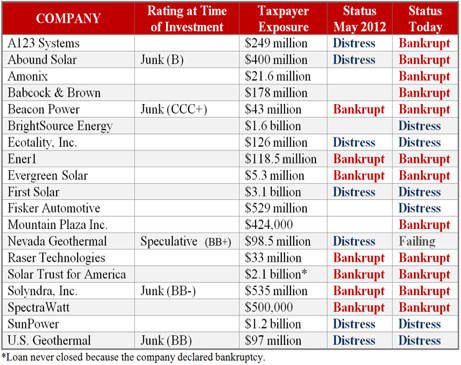 Note: Does not include the solar company, Satcon Technology Corp., who filed for bankruptcy on October 17.
---