This week, the U.S. Environmental Protection Agency (EPA) finalized tighter limits on ground-level ozone levels. This regulation is expected to be one of the costliest in U.S. history, even though ozone levels have been steadily declining for decades. In fact, EPA's newest data on Air Quality Trends, which was updated in September and quietly released without even a press release, confirms how ozone numbers keep dropping—without additional federal regulation.
EPA's quest for tighter limits means that more and more counties are falling out of compliance. Now hundreds of counties will be in violation of the new standards. Nevertheless, the fact that ozone levels continue to decline calls into question the need for still tighter restrictions. Meanwhile, the enormous costs of the rule raise the possibility that we have reached a point of "massively diminishing returns."
Current Standards Already Too Strict
The most recent standards for ozone were established in 2008 at 75 parts per billion (ppb). Even though EPA is setting new standards at 70 ppb, the 2008 levels have not yet been met in many areas of the country. Below is a map that shows nonattainment areas under the 2008 standard.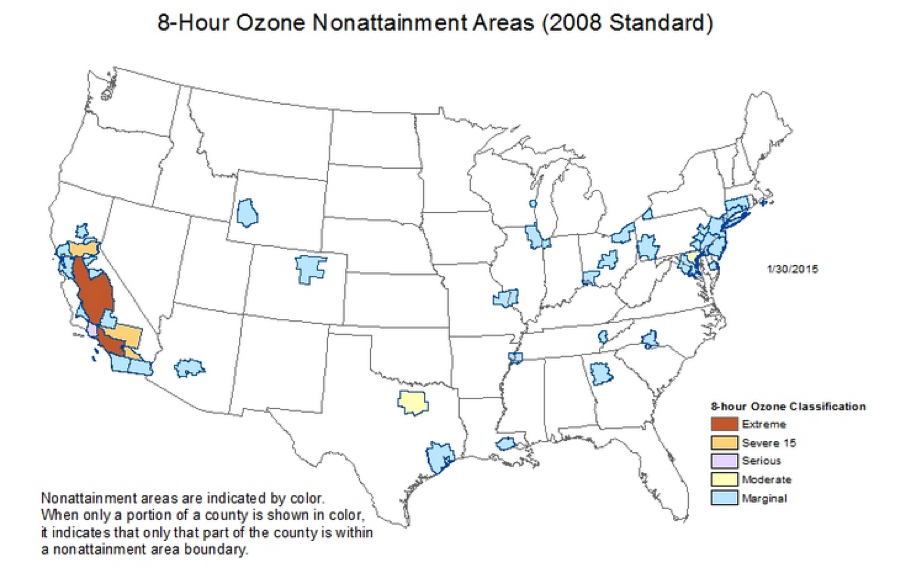 Source: U.S. Environmental Protection Agency, 8-Hour Ozone Nonattainment Areas (2008 Standard), http://www3.epa.gov/airquality/greenbook/map8hr_2008.html
In 2010, EPA reconsidered the 2008 standard and EPA's delay means that implementation of the 2008 standard is now behind schedule. But instead of waiting until localities are complying with the 2008 regulation, EPA is imposing a newer, stricter standard that puts more counties out of attainment even though ozone levels are decreasing. Below is a map depicting the areas that are projected to be out of compliance under a 70 ppb standard.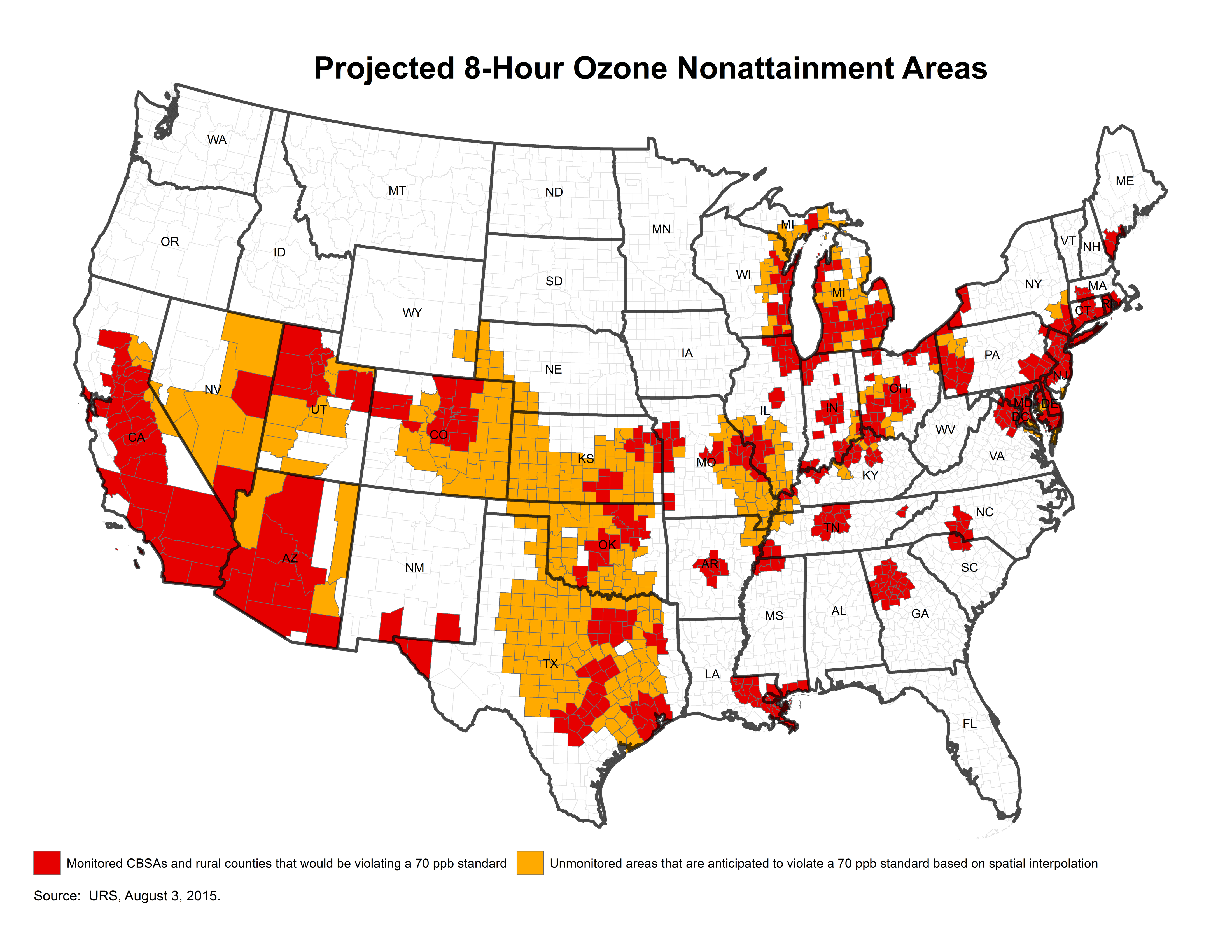 Source: http://www.americanlegislator.org/projected-ozone-nonattainment-areas/
Because the 2008 standards are still being implemented, it's difficult to examine a realistic baseline for comparison with the new regulation. Furthermore, it also demonstrates that the readily achievable emissions cuts have already been accomplished and any additional reductions of the limit will be costly to meet.
Ozone Levels Still Declining
Even though many parts of the U.S. are having difficulty meeting the current standards, ozone levels have been consistently falling. According to the newest EPA data—updated this September—average ozone concentrations nationwide dropped by 33 percent from 1980 to 2014. Since the incorporation of the 2008 standards, average ozone levels have declined by more than 9 percent, nationally. EPA released the 2014 update without much publicity, highlighting the tension between actual air quality trends and the agency's regulatory agenda.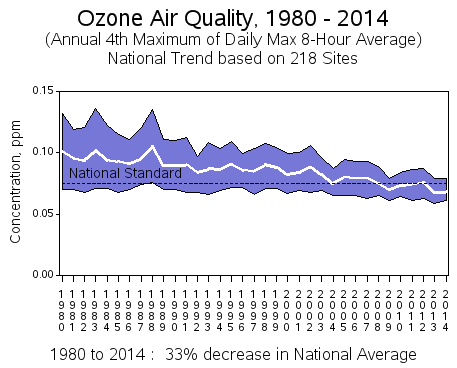 Source: U.S. Environmental Protection Agency, National Trends in Ozone Levels, http://www3.epa.gov/airtrends/ozone.html
As a whole, the U.S. has great air quality. Ozone levels and other sources of emissions have been trending in the right direction for decades, but it's questionable how effective additional restrictions will be at forcing more improvements. In fact, it's likely that stricter limits will impose costs that outweigh the marginal benefits.
Huge Costs to Chase Small Benefits
The revised standards could be incredibly costly to the economy and American families. According to an August 2015 report by NERA Economic Consulting, which analyzed the impacts of a 65 ppb standard (EPA ultimately went with a slightly higher 70 ppb standard), the total compliance costs could total $1.13 trillion from 2017 to 2040. The rule could also lead to annualized GDP declines of $140 billion as well as $840 in consumption losses for households.[1]
The impact on American businesses is also anticipated to be negative. The NERA study estimated that the regulations could eliminate 1.4 million job equivalents, on average, from 2017 to 2040.[2] In addition, the tighter standards could harm the struggling U.S. manufacturing industry. While lower energy prices and advances in extracting resources from shale formations promise to bolster manufacturing, regulations like EPA's ozone limits may reverse those positive trends.
The regulation requires areas that are out of compliance to develop plans detailing how they plan to achieve the standards. Since the "low hanging fruit" has already been picked, there are fewer options available for meeting these more stringent standards. In its regulatory impact analysis of the proposed rule, EPA admitted that a significant amount of "unknown controls" would be needed to meet the emissions reductions required under the 70 ppb standard.[3]
These controls could hit Americans on a personal level. As just one example, EPA has floated the idea of penalizing drivers with parking taxes, congestion pricing, new toll fees, and speed limit restrictions. In this instance, middle class and poor drivers, who have less disposable income to spend on new taxes and fees, will be hit hardest.
In addition to its enormous costs, the benefits from lowering ozone levels are dubious. EPA claims that further reducing ozone will lessen a variety of health ailments, including asthma. However, as ozone levels have decreased, asthma rates have actually risen. Specifically, child asthma rates are up 131 percent since 1980, despite falling ozone concentrations. If reducing ozone alleviated asthma as much as EPA claims, one would expect asthma rates to be falling with ozone levels.
Furthermore, numerous studies cast doubt on the usefulness of EPA's ozone standards. For example, researchers from Johns Hopkins University School of Medicine didn't find a significant association between asthma rates and living in inner cities, even though air quality in urban areas is usually poorer than that of nonurban areas. However, the study did identify lower household income as an independent risk factor for asthma. Corroborating that finding, there is well-supported evidence for a connection between wealth and health (which even EPA recognizes). Ultimately, if the revised ozone standards make people poorer, higher asthma rates could result.
Finally, EPA's evaluation of the relevant studies and data is suspect. Experts at the Harvard School of Public Health have contended that the agency has failed to assess the scientific research in a "systematic fashion" by using a proper "weight-of-evidence" evaluation, increasing the chances of cherry picking studies.
Conclusion
EPA should not further tighten ozone levels. Millions of Americans already live in areas out of compliance with the 2008 regulations, even though air quality and ozone levels in the U.S. are continually getting better. Furthermore, the economic costs of the rule are estimated to be substantial, and there are diminishing returns to additional emissions restrictions. In the end, the economic costs could make people poorer, undoing any of the positive effects of ozone restrictions. Finally, EPA's analysis of the data is questionable and there are a number of studies that call into question if lowering ozone limits is good policy. EPA's revised ozone standards are ill-advised.
---
[1] NERA Economic Consulting completed an initial report on the 65 ppb standard in February 2015. In August 2015, NERA updated its report to incorporate detailed work it provided on behalf of the Texas Council on Environmental Quality. For more information, see NERA's reports here: http://www.nam.org/Data-and-Reports/Reports/Potential-Economic-Impacts-of-a-Stricter-Ozone-Standard/
[2] NERA Economic Consulting, Economic Impacts of a 65 ppb National Ambient Air Quality Standard for Ozone, February 2015, p. 12, http://www.nam.org/Issues/Energy-and-Environment/Ozone/Economic-Impacts-of-a-65-ppb-NAAQS-for-Ozone-(NERA).pdf
[3] U.S. Environmental Protection Agency, Regulatory Impact Analysis of the Proposed Revisions to the National Ambient Air Quality Standards for Ground-Level Ozone, November 2014, pp. 4-22–4-23, http://www3.epa.gov/ttn/ecas/regdata/RIAs/20141125ria.pdf