We all know of the shale oil boom in the United States that has produced an explosion in domestic oil production primarily on private and state lands and helped to decrease our dependence on oil imports. Hydraulic fracturing and directional drilling have spurred economic growth in North Dakota and Texas along with other states with productive shale oil wells. But, oil shale, a different product, has yet to be developed in the United States, while Estonia, a country near Russia and Finland, gets 90 percent of its electricity production from it.
The oil shale industry in Estonia employs about 1 percent of the national work force (over 7,500 people) and provides four percent of its gross domestic product. The United States has 2.6 trillion barrels of in-place oil shale resources and almost 1 trillion barrels of technically recoverable oil shale[i], well beyond the resources of Estonia. Yet, our government has decided that those resources, which lie predominantly on federal lands, will not be open to research and development. Without research and development, oil shale cannot become a marketable resource.
Shale Oil vs. Oil Shale
Shale oil is conventional oil trapped in shale rock. Because the oil produced from shale oil formations is conventional, it is fluid and does not require special processing. Oil shale, on the other hand, is sedimentary rock that contains kerogen, a solid organic material. When the kerogen is heated to high temperatures, it releases petroleum-like liquids that can be processed into liquid fuels. Shale oil resources are spread over much of North America, but oil shale is concentrated primarily on federally owned lands in the western United States in Utah, Wyoming, and Colorado.[ii]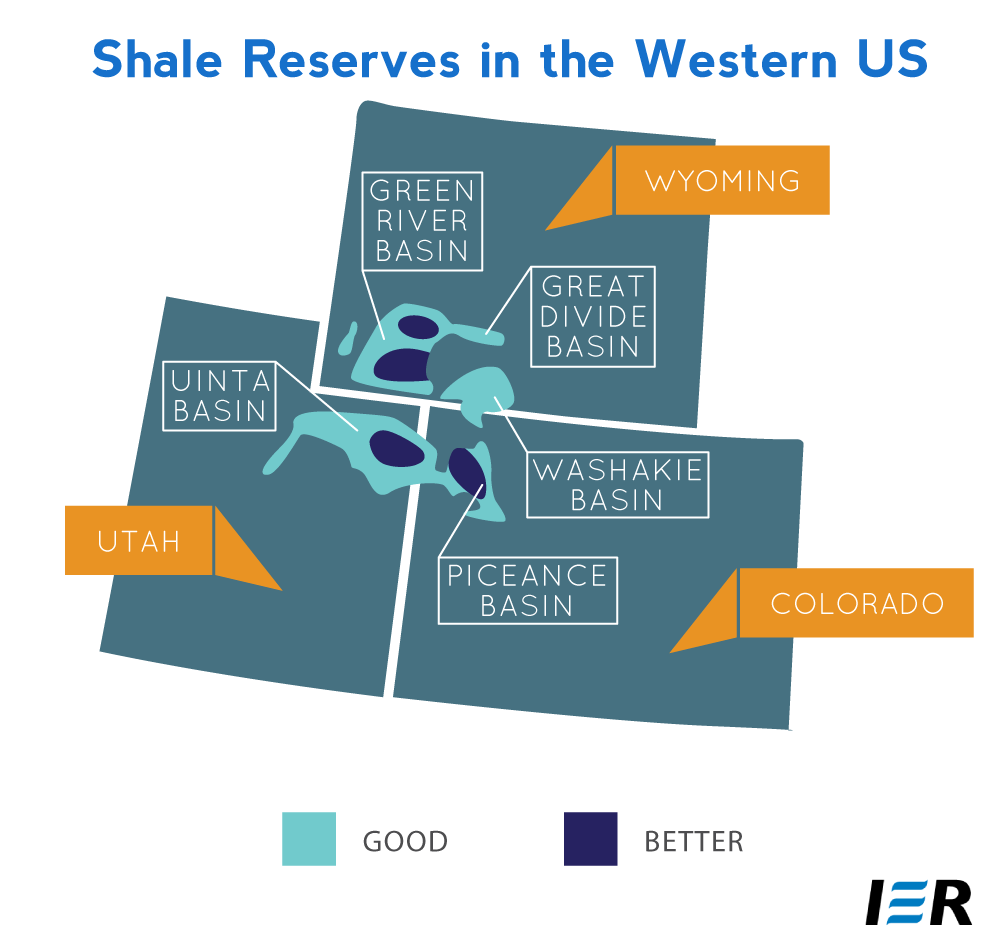 Source: https://www.instituteforenergyresearch.org/wp-content/uploads/2012/07/Oil-Shale-Graph-02.png
U.S. Shale Oil Development
The development of hydraulic fracturing with directional drilling has produced a boom in domestic oil production in the United States from shale oil. For example, in 1995, the Bakken shale formation in the western part of North Dakota and eastern Montana was estimated by the U.S. Geological Survey (USGS) to contain 151 million barrels of recoverable oil. But with advances in drilling and production technologies, including the expanded use of techniques such as hydraulic fracturing and horizontal drilling, the USGS revised its estimate by a factor of 25 in 2008. And, just recently, the agency announced that the Bakken and the Three Forks formations in North Dakota, South Dakota and Montana contained an estimated mean of 7.4 billion barrels of undiscovered technically recoverable oil, double its 2008 assessment[iii]. In other words, USGS's estimate of the amount of recoverable oil in North Dakota has increased almost 50-fold since 1995. Some oil analysts, however, estimate that Bakken could hold 24 billion barrels of recoverable oil.[iv]
Texas with the Eagle Ford shale formation ranks first among the states in oil production. North Dakota ranks second, recently surpassing Alaska and California, due to its Bakken shale oil resources. According to the Bureau of Economic Analysis, in 2012, North Dakota led the nation in personal income growth (growth in before-tax income received by all residents from all sources, including wages, rents and transfer payments). Personal income growth in North Dakota increased by 12.4 percent in 2012 over 2011 levels, marking the fifth time in the past six years that North Dakota has recorded the nation's fastest-growing personal income. Texas ranked second with average personal income increasing by 4.8 percent in 2012.[v]
The shale oil (and shale gas) revolution is a testament to what happens when people are allowed to explore for oil resources. People have known for decades that the Bakken and Eagle Ford contain oil, but the only reason these areas are so prolific today is because people can access the resources. Oil shale contains vast resources, but instead of allowing the access that has facilitated the shale oil and natural gas revolution, the federal government keeps oil shale off limits. 
U.S. Oil Shale Resources
The USGS estimates our oil shale resources to be even greater than our shale oil resources. The United States has 2.6 trillion barrels of oil shale in-place, with about 1 trillion barrels that are considered recoverable under current technological conditions. The nearly 1 trillion barrels are about four times the amount of Saudi Arabia's proven oil reserves—a large enough supply for 140 years at our current rate of oil use. Before leaving office, the Bush administration offered to lease these resources for research and development that could lead to commercial development but they were withdrawn by the Obama administration.[vi] Private sector research and development is necessary for development, but oil companies will not invest the hundreds of millions of dollars required to develop the necessary technology unless they are able to produce the oil and bring it to market. This fact led Congress to require the president to develop exactly the sort of provision offered by the Bush Administration in the Energy Policy Act (EPACT) of 2005.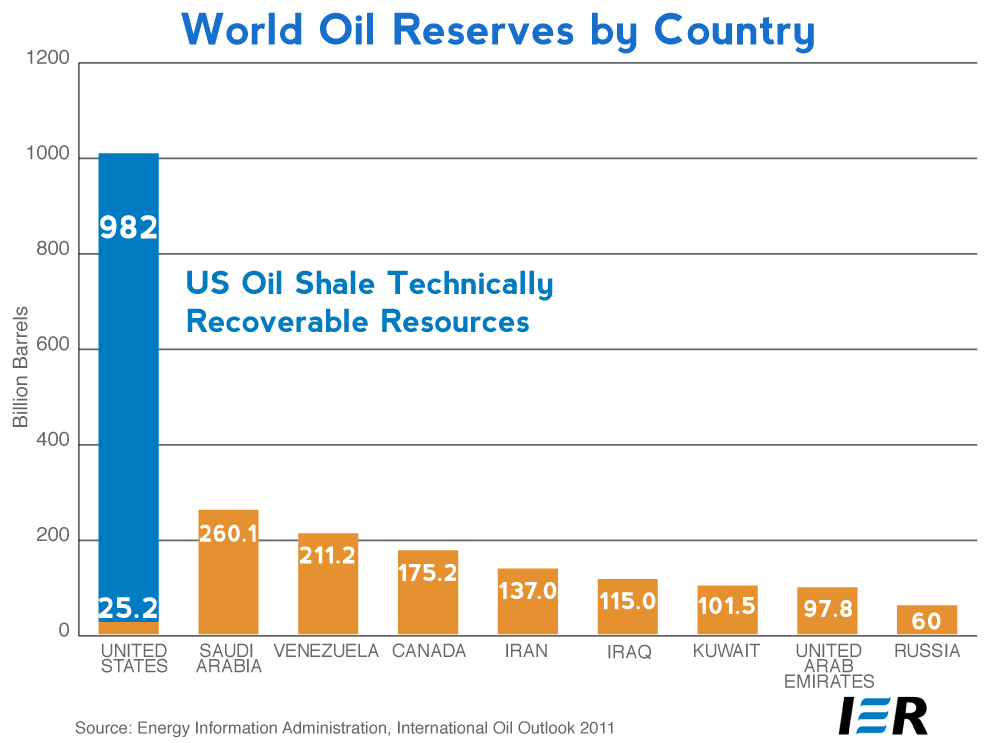 Estonia's Oil Shale Deposits
In 2005, Estonia was the largest producer of oil shale in the world, but since then it lost its ranking to China. There are two kinds of oil shale in Estonia – Dictyonema argillite (claystone) and kukersite. The kukersite deposits have been known to exist since the 1700s, but full-scale mining did not begin until 1918 when 17,000 tons were produced by open-pit mining. By 1940, the country was producing 1.7 million tons of oil shale annually and in 1980 it peaked at 31.4 million tons from eleven open-pit and underground mines. After 1980, production fell to about 14 million tons in 1994 and 1995, but increased again and in 1997, the country was producing 22 million tons of oil shale from six room-and-pillar underground mines and three open-pit mines. The output was used to generate electricity, produce petrochemicals, and to manufacture cement as well as other products. In 1997, Estonia provided subsidies to oil-shale companies totaling 132.4 million Estonian kroons ($9.7 million).[vii]
Proved reserves of kukersite are estimated to total 5.94 billion tons. The kukersite deposits are located in northern Estonia and extend eastward into Russia toward St. Petersburg where it is referred to as the Leningrad deposit. The Tapa deposit, a younger deposit of kukersite, overlies the Estonia deposit. The older marine Dictyonema Shale deposit underlies most of northern Estonia. While geological reserves of Dictyonema argillite in Estonia are estimated at approximately 70 billion metric tons, larger than the kukersite reserves, its quality is poorer and as such is not currently being produced.
Oil Shales in Estonia and Sweden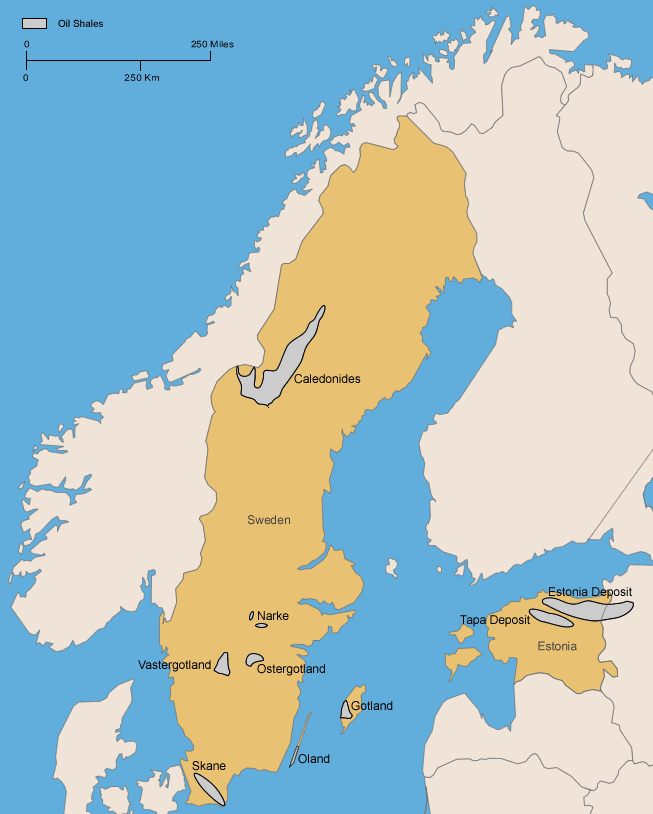 Source: http://geology.com/usgs/oil-shale/images/estonia-sweden-oil-shale-map.gif
Unfortunately, because oil shale in different parts of the world has different qualities, the production process must be modified to account for those differences. Estonian oil shale companies are interested in developing the technology to market U.S. oil shale resources, and so are other companies, who need to gain access to U.S. oil shale leases.
Other Oil Shale Deposits
As the figure above shows, Sweden also has oil shale deposits. Before and during World War II, oil shale from the Alum Shale was produced, but production stopped in 1966 due to the availability of cheaper supplies of petroleum. During that production period, about 50 million tons of oil shale was mined at Kinnekulle in Västergötland and at Närke.
China also has oil shale resources totaling 720 billion metric tons located in 80 deposits of 47 oil shale basins. China's oil shale industry was established in the 1920s. Similar to its development in Estonia, oil shale production in China had decreased and then started increasing again in 2008 when oil prices increased. Several Chinese companies are engaged in shale oil production and its use for power generation. China became the largest shale oil producer in the world after 2005, taking top ranking from Estonia. In 2011, China produced about 650,000 metric tons of shale oil.
Two of China's principal resources of oil shale are at Fushun and Maoming. The Fushun oil-shale deposit is located in northeastern China just south of the town of Fushun in Liaoning Province. The total resource of oil shale at Fushun is estimated at 3,600 million tons. Production there began in 1926 under the Japanese and peaked in the early 1970s with about 60 million tons of oil shale mined annually then dropped to about 8 million tons in 1978. This reduction was partly due to increased discovery and production of cheaper crude oil within China. The Maoming oil-shale deposit has oil shale reserves estimated at 5 billion tons.[viii]
The first commercial production of shale oil in China began at Fushun in 1930 with the construction of "Refinery No. 1," and was followed by "Refinery No. 2," which began production in 1954, and a third facility that began producing shale oil at Maoming in 1963. The three plants eventually switched from shale oil to refining cheaper crude oil.  In 1992, a new plant for retorting oil shale was constructed at Fushun.
Brazil, Germany, and Russia also have oil shale deposits. More than 80 deposits of oil shale have been identified in Russia. The kukersite deposit in the Leningrad district is burned as fuel in the Slansky electric power plant near St. Petersburg.
Conclusion
Oil shale deposits, different from shale oil, exist around the world and countries are seeking its development. Estonia, for example, produces 90 percent of its electricity generation from oil shale while China is the world's largest producer. Our oil shale which lies mainly on federal lands is currently under lock and key by the Obama administration, which withdrew the leases that the Bush administration had opened to research and development. Current oil prices should be high enough to encourage the development of the technology to bring those resources to market if only access were not restricted. Technically recoverable oil shale resources in the United States could provide Americans with 140 years of oil shale at current usage rates.
---