Recently, explosions ruptured the Nord Stream 1 and 2 pipelines, sending natural gas to the surface of the Baltic Sea. Some E.U. officials believe it is an act of sabotage and Prime Minister Mateusz Morawiecki of Poland publicly blamed Russia, saying the leaks were an attempt to further destabilize Europe's energy security. Repairs could take up to several months, beginning with detailed inspections of the damage. The pipelines' operator, Gazprom, threatened to shut down the only pipeline that is still pumping Russian gas to Western Europe. The disruptions resulted in the price of the benchmark Dutch TTF future contract for October increasing by 20 percent over the past two trading sessions to 208 euros ($199) per megawatt-hour, compared with about €39 ($39) a year earlier. Natural gas prices, which have been volatile since the war began, peaked at nearly €350 ($350) in August but had been falling in recent weeks.
Because Nord Stream 2 never went into service and Russia shut down Nord Stream 1 at the end of August, there is no immediate effect on Russian gas supplies to Europe. The 27 European Union member countries agreed in July to cut natural gas use by 15 percent through the spring, and have arranged alternative supplies, allowing them to build up their stockpiles. European countries reduced their reliance on Russian gas to less than 10 percent from about 40 percent last winter. European countries were two months ahead of schedule in filling their gas storage reserves to above 80 percent and, in some cases, above 90 percent.  However, recent weather has been colder than normal in Europe, putting extra demands on its energy system.
It would be no simple matter to inflict damage on both of the Nord Stream pipelines, each of which is actually two pipelines. In some places, they lie more than 300 feet below the surface and the steel pipes are coated in concrete and designed to withstand the pressures at such depths, as well as changes in internal pressure on the 760-mile route from Russia to Germany. They were subject to numerous stress tests and certifications before being laid on the sea floor.
But what is even more troubling is that the explosions occurred not far from the Baltic Pipe project, a new gas transmission line that is will bring Norwegian gas to Poland and neighboring countries. The Baltic Pipe will make it possible to import up to 10 billion cubic meters of natural gas annually from Norway to Poland and to transport 3 billion cubic meters of natural gas from Poland to Denmark. The start of gas transmission is scheduled for October 1, 2022. The Baltic Pipe has been a Project of Common Interest since 2013 and has received around €267 million ($267 million) of funding from the European Union. Norway is now Europe's largest provider of natural gas, displacing Russia.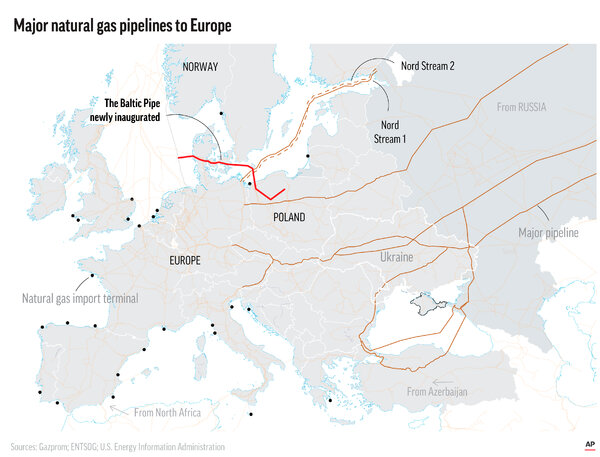 Shortages and High Natural Gas Prices Have Affected Manufacturing  
Several manufacturers have had to pause operations due to high energy prices and an expected drop in consumer demand. Industrial production fell 2.3 percent in the Eurozone area in July from June, according to data from the European Union. The producer price index for industrial products rose 45.8 percent year-over-year as of August 2022.
Europe's energy crisis has left few businesses untouched, including steel, aluminum, automobile, glass, ceramics, sugar, and toilet paper makers. Some industries, such as the energy-intensive metals sector, are shutting factories that may never reopen, resulting in thousands of job losses. ArcelorMittal, the world's second-largest steelmaker, is switching off one of its two furnaces in Bremen, Germany, due to the high costs for gas and electricity putting a strain on its competitiveness. Further, from October 1, the German government has a planned gas levy on businesses. French glass manufacturer Duralex announced that it would close furnaces beginning in November for at least four months because it would generate unsustainable losses at the high costs of energy.
To help consumers from skyrocketing energy prices, the European Union plans to obtain over 140 billion euros ($140 billion) by taxing revenues from low-cost electricity generators and profits of fossil fuel companies. The Commission proposal would impose a cap of 180 euros ($180) per megawatt hour on the revenue that wind, solar, nuclear, biomass, lignite coal and some hydroelectric plants receive for generating electricity through March, which would cap generators' revenues at less than half of current market prices. EU power prices are typically set by natural gas, whose prices have soared. Germany's front-year electricity price was recently trading at just below 500 euros per megawatt hour.
Further, oil, natural gas, coal and refining companies would be taxed 33 percent of their surplus profit in fiscal year 2022. Surplus profits are defined as those 20 percent above a company's average taxable profits in the last three years. Some countries including Italy have already introduced a windfall profit tax on energy firms. The EU would put in place a minimum rate for all EU countries, but governments could choose to go higher.
Conclusion
Europe is in dire shape and the news keeps getting worse as the Nord Stream 1 and 2 gas pipelines have been affected by explosions that have resulted in natural gas leaks. Since both pipelines were not delivering gas to Europe, there is no immediate loss of gas to the continent and the natural gas storage reserves are over 80 percent full. But, the situation for the winter months is uncertain. The EU has asked for countries to cut demand by 15 percent and are taxing electric generators that produce electricity for less than a pre-determined price cap to pay a tax on the surplus. Along with that, fossil fuel companies are taxed 33 percent of their surplus profits. Interfering with markets can be dangerous and backfire if there are not enough profits for future investment or if demand is not reduced sufficiently through voluntary cuts to balance supply and demand without rationing. While the United States is not currently in the same energy situation as Europe, President Biden's anti-fossil fuel policies could result in energy shortages here as well as his policies begin to kick in.