"Uncertainty around subsidies in Europe has hurt demand in recent months, and the "sluggish demand has unexpectedly continued early into the second quarter,"" Evergreen Solar company CEO Michael El-Hillow said.
Evergreen Solar saw its shipments of solar panels drop 62 percent between the first quarter of this year and the last quarter of 2010 due to sluggish demand and the lowering of subsidies for solar power in Europe. Because Evergreen Solar cannot compete with low cost solar panels from China, it has laid off 800 workers at its Massachusetts plant, partially subsidized by state funds, and ramped up production at its plant in China, using low cost labor. European countries, who have been in the forefront of solar and wind projects to curb global warming, are finding that they must severely cut back their subsidies because of financial problems. For example, Spain reduced tariffs on solar photovoltaic plants by 45 percent, France placed a 3-month moratorium on solar projects eligible for subsidies and will limit the number of projects it will subsidize, and Britain placed restrictions on its rooftop solar program.
The Evergreen Solar Story
Evergreen Solar started its business in a 2,500 square foot laboratory in Waltham, Massachusetts in 1994 with an innovative idea to reduce the cost of photovoltaic solar using a "string ribbon" process for making solar cells. The company started selling the solar cells using this technology in 1997. The company received over $40 million dollars in subsidies mostly from government agencies in Massachusetts. Beginning in 2005, Evergreen Solar expanded globally to Germany and China in conjunction with companies in those countries. It received a $33 million loan from the Chinese government for its China expansion. While it is reported that "solar manufacturers in China have received considerable government and financial support", Evergreen Solar is capitalizing on China's skilled, low cost labor force. The Evergreen Solar story tells us that while ideas are "made in America," production is cheaper in China.
The European Renewable Subsidy Experience
Europe accounts for about 80 percent of the world's demand for solar power equipment, but European governments are removing the subsidies that established that market due to financial problems and economic difficulties. Many of Europe's subsidies are feed-in tariffs (FITs), where consumers pay a higher rate for electricity generated from renewable technologies. While the subsidies are paid by consumers as higher electricity rates rather than a tax subsidy or rebate supplied by the national government, the government must approve the feed in tariffs, whose higher rates hurt consumers struggling to survive in a poor economy. The higher rates for renewable electricity are intended to last 20 to 25 years in most cases.  According to Phil Dominy, a senior executive at the London office of financial consultants Ernst & Young, "The FITs have attracted much more investment than governments had expected, and suddenly governments have got nervous about imposing billions of Euros in higher costs on consumers."
Germany was the first to implement the feed-in-tariff approach.  German consumers pay 5.5 billion Euros ($7.6 billion) in higher electricity rates for solar power, or 5.6 percent of the nation's electricity bill. The benefit for Germany is that it achieved 8.9 percent of its energy from renewable power in 2008, getting closer to its 18 percent target by 2020. Germany is gradually cutting its subsidies based on the industry's annual growth and its success in lowering the price of solar panels.
Spain was the next European country to push solar energy.  Since 2002, about 23 billion Euros have been invested in Spain's photovoltaic industry. In 2009, Spain invested around 2.7 billion Euros in subsidies to solar energy, over 40 percent of the country's entire renewable power subsidies. Since it suffered economic troubles, Spain dropped those subsidies, reducing tariffs by up to 45 percent on new photovoltaic plants and limiting the subsidies on existing plants. Spain retroactively imposed a cap on the number of hours' output that a renewable generator could claim each year for the higher rate.
In Britain, anyone who installs solar panels was to be guaranteed to receive up to 41.3 pence (66 cents) for each kilowatt hour generated for 25 years. The installer would get an extra 3 pence if the electricity generated was fed into the grid. Those rates are over 10 times the market price of electricity in Britain. Thus, a household solar unit costing 10,000 pounds sterling ($16,060) could generate a 10 percent return, bringing corporate investors and pension funds seeking to take advantage of the subsidy. Earlier this year, the British government announced that it was re-evaluating the program, just 10 months after it was introduced.
Solar subsidies are highest in the Czech Republic, where 7.4 percent of electricity payments subsidize solar power, or, expressed another way, 0.37 percent of the country's GDP produces 3.3 percent of the nation's electricity.
The U.S. Experience
Solar energy produces a minuscule amount of energy in the United States, generating only 0.03 percent of the country's electricity and producing only 0.1 percent of its energy in 2010. To date, the federal government has provided a 30 percent investment tax credit or rebate for solar technologies, and has not introduced a feed in tariff. Various states have their own initiatives. Surprisingly, New Jersey became the second largest state producer of solar energy last year, installing 137 megawatts of solar photovoltaic capacity. New Jersey ranks second to California in solar installations.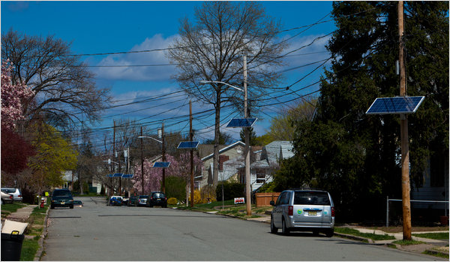 The solar installations are part of New Jersey's goal of obtaining 23 percent of its electricity from renewable energy by 2021. However, New Jersey residents are not happy with the way the solar panels look attached to their utility poles. According to officials of the electric utility company, there is limited availability to good sun exposure in the placement of solar panels due to the state's crowded residential areas. Only a quarter of the company's 800,000 poles are suitable for the panels, which are mounted 15 feet high. The 200,000 panels if laid out like a quilt would cover 170 acres.  One panel only produces enough electricity in one year to light four 60-watt bulbs around the clock for about six weeks.  Because solar energy is more expensive than traditional sources of electricity, electricity bills for the company's residents in New Jersey will increase to pay for the more expensive power.
Unlike New Jersey, Florida voted against a renewable energy bill for the third straight year. The proposal backed by Florida Power and Light (FPL) would have given the state's investor-owned electric utility companies the ability to raise rates to recover the cost of building solar power plants during a time when there is no additional electricity demand. FPL wants to expand its growing solar energy market and provide solar generation for the first green city proposed in southern Florida. The bill would have allowed Florida's largest electric companies to raise electric rates as much as $375 million a year for five years to develop alternative energy. FPL customers using 1,200 kilowatt hours a month would have paid an average of $2.40 more a month. Senator J. D. Alexander said, "I can't believe we'd ask Florida to pay $1 billion in additional assessments with zero regulatory oversight. I think that's fundamentally not right."
Conclusion
The renewable energy bubble in Europe was inflated by government subsidies, which are now being deflated. While the subsidies were not expected to be temporary, they are turning out to be just that. Luckily the United States has not entered into renewable subsidies for solar to the extent that Europe has, which provides lessons for us.
The United States excels at innovation and breakthroughs in high-tech technology as Evergreen Solar has shown us. Generally, those innovations do not provide abundant employment where the jobs are most needed. The closing of the solar factory in Massachusetts is indicative of the difficulties in trying to beat China at cheap manufacturing.
Our government officials want us to believe that green technology will provide needed jobs. But history has shown that public officials are not skilled at picking projects that win the competitive race for new technology. The market place has been the best provider of winning, innovative technology. For decades, economic success has come from entrepreneurship and education, not large-scale manufacturing.